What's in a name? Mitt Romney and his brother Glove…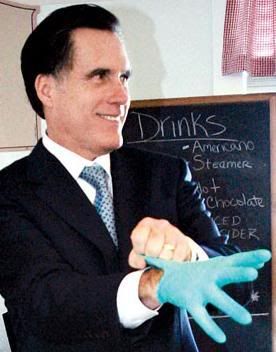 I've managed to convince a couple of people recently that Mitt Romney's full name is Mitten and that he has a brother called Glove. That was for about 30 seconds… until I couldn't keep a straight face any longer. And yes, I know it's not a very good joke… (By the way, that's Mitt with his brother Glove on the left… Mitt is the one with the really real looking hair)
I've always been fascinated by American names – and as American politicians reflect the make-up of the country there are going to be plenty of exotically named politicians reflecting the country's disparate heritage and history. I'm not mocking our American cousins (how could I, my great-great-grandmother's surname was Hogsflesh!), I just find unusual names interesting.  Here are some of my favourite unusually-named US politicians past and present:
Recent and present:
Ryan Fattman
Young Boozer
Twinkle Andress Cavanaugh
Krystall Ball
Dick Swett
Delve back into history and you'll find:
Garvious Oresal Biles
Ximenas Philbrick
Appling Speaks Wells
Reading Wood Black
Harcourt Joseph Pratt
Waddy Thompson James
Odbrey Miles Snow
A chap by the name of Andy Osterdahl, who lives in Jamestown, USA has actually set up a website called The Strangest Names In American Political History which is 'dedicated to American Politicians With Strange, Odd, Humorous and Unusual Names.' It is well worth a look.
And, of course, there's Barack, which, according to the internet (which means it might not be correct!) means 'blessing' in Swahili…